An Introduction to Group Therapy
The power of group therapy. When seeking therapy rituals and practices to benefit your mental wellbeing, you might come across group therapy or group work. Put simply, group therapy is a form of psychotherapy where participants work in groups rather than speaking directly to the therapist one-on-one. It might sound daunting at first, but there are actually a whole multitude of benefits and advantages to group therapy and group work, like many of the sessions carried out here at New Life Portugal. Want to know more? Keep reading for your full introduction to group therapy.
Traditional group therapy is therapy sessions held with multiple people as opposed to individual therapy where participants speak with a therapist one-on-one. It's not the same as a support group or circle, however, as there is more of a focus on traditional therapy processes and practices rather than just the simple sharing of experiences.
In more contemporary terms, group work is healing and therapeutic experiences and activities designed to be carried out in groups, much like those on offer here at New Life Portugal wellness retreat. The power of group therapy can be really effective.
And why it is so effective
Seeking any form of therapy is undoubtedly a uniquely intimate and personal experience and we often think of 'therapy' as sitting one-on-one in a therapist's chair. However, group work is receiving more and more praise for its ability to accelerate or facilitate growth and healing.
"Most, if not all, therapy modalities acknowledge the power of groups to effect change," says New Life Portugal Counsellor, Daral Boles. "Sitting together, you find a kinship with people whose experiences, while never exactly the same as yours, mirror or model things you know about yourself and things you are just discovering."
In fact, participating in group therapy work can facilitate important mindset shifts. "Group work shapes and changes how you think about yourself, about others, and about the world." Daral continues. Better still, they are often a secure environment in which you can feel safe to experiment with your modes of communication. "Accepted for who you are, as you are, you can practice taking risks and learn how to articulate feelings and needs in new ways that increase the chance those needs might be received and met."
"The combination of group work with individual therapy can be particularly illuminating," Daral explains. "In group interactions, our default settings are revealed; these are the habits of mind and being that show up in interpersonal relationships. When combined with the issues that surface in community living, these interactions provide fertile material for one-on-one therapy, where we can explore the feelings, both present and past, triggered in the moment."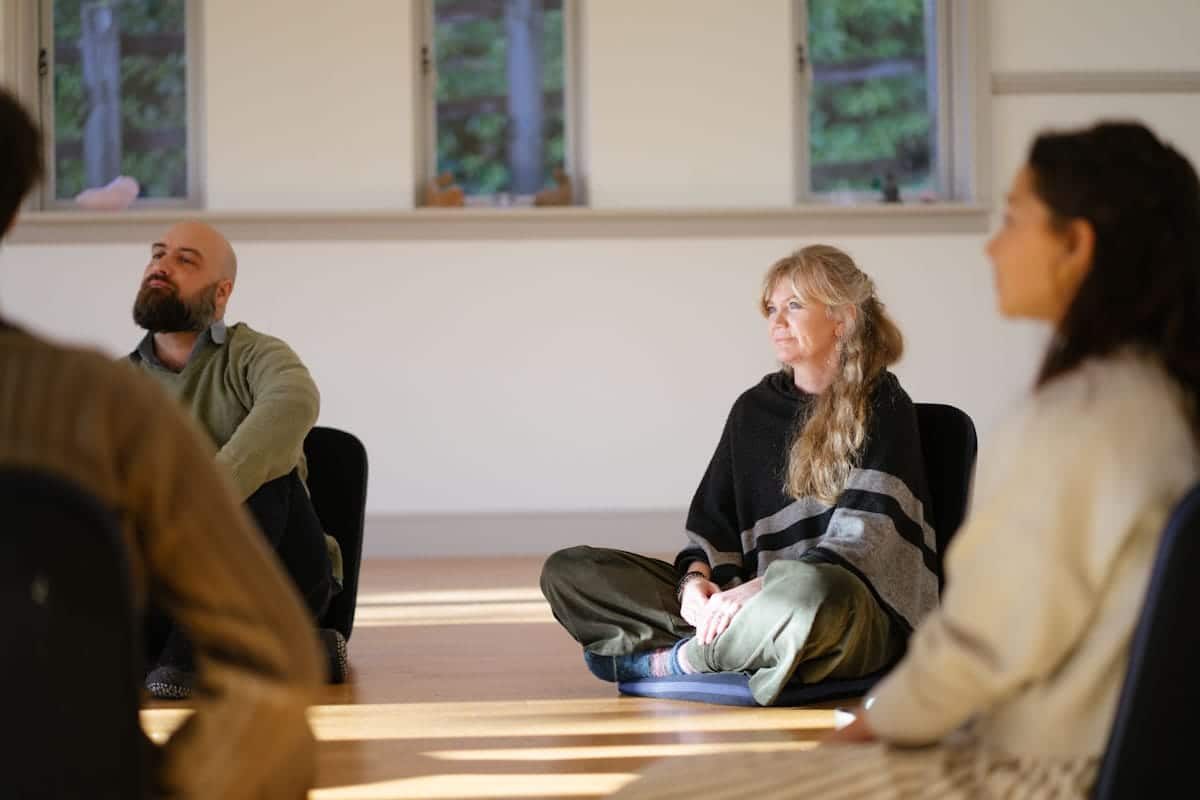 Different types of thearpy in group
There are several different types of group therapy that are used to treat a variety of mental health conditions. The power of group therapy can apply to all these types. Some of the most common types of group therapy include:
Group therapy is not suitable for everyone. It is best to consult a therapist to determine if it is the right treatment option for you and which type suits your individual needs and preferences best.
How does Group Therapy start?
Before you start group therapy you will typically have an initial assessment or intake session with the therapist that leads the group or a therapist that knows the colleague who leads the group.
This will help to determine if group therapy is the right treatment option for you and which type of group therapy will be most beneficial. During this session, the therapist will discuss your potential concerns about group therapy, your goals and what you can expect from participating in group therapy.
It also gives you a chance to ask any questions you might have. The power of group therapy is clear here.
Once the initial assessment is completed, and the therapist determines that group therapy is appropriate, you will join the group that is best suited for you and start attending the sessions on a regular basis.
These are led by a trained therapist and typically involve 8-12 individuals. The group sessions are usually held in a comfortable and confidential setting, and the length of the sessions can vary from 60-90 minutes.
At the start, the members usually introduce themselves and tell the others why they are there. In the following sessions, it may be common practice – depending on the type of group therapy – to do a quick check-in at the beginning and briefly explain any progress that's been made since the last time the group met.
What happens during the sessions?
During a group therapy session, the participants have the opportunity to share their thoughts, feelings, and experiences.
Usually, the other members of the group are facing and trying to cope with similar struggles and challenges. The therapist will guide the group through discussions and activities that are designed to help the individuals of the group identify and work through their issues.
No matter if you are experiencing a physical or mental illness, if you went through a traumatic event or are struggling with grief, it can feel very isolating and is if you are the only one battling with these thoughts, feelings, or behaviours. The power of group therapy can be the correct answer for you.
Group therapy will make you realise that you are not alone and can provide a sense of validation as well as understanding from others who are going through something similar. Each individual contributes a different perspective and offers insights that the other members may not have considered before.
Depending on what type of group therapy you attend, members are encouraged to give and receive feedback and support each other.
Group therapy typically ends after a certain number of sessions – these can happen over the course of a few weeks up to several months. Most commonly, the therapist will work with the group to determine when it is appropriate to end the therapy.
At the end of group therapy, group members can reflect on the progress they have made – with the help and feedback of the therapist and other participants – and the experiences they have had within the group and how they have been beneficial and/or challenging.
The therapist may also provide recommendations for continuing care or other resources so that the group members can continue their personal healing journey.
Benefits of group therapy
Tips for your therapy session
"The so-called C-words are a great tool kit for anyone undertaking group work," Daral recommends.
These include:
Curiosity about and compassion for yourself and others
A desire for new clarity
Courage to try new things and risk self-exposure
Competence using the new skills learned in either group or individual sessions
Above all, connection.
There is no general answer to how much group therapy costs. It depends on various factors such as location, the type of group therapy and the qualifications of the therapist. In general, group therapy tends to be less expensive than individual therapy and in most European countries there will be free or subsidised group therapy options. It is worth checking with different providers and comparing the costs as well as the therapist's qualifications and experience.
Depending on the country you live in and your specific needs examples of free group therapy include:
Group work at New Life Portugal
While it doesn't necessarily fall under the umbrella of traditional group therapy, the group work undertaken at New Life Portugal wellness retreat takes on two forms.
We believe in the power of group therapy.
Process groups: "Process groups focus on the here and now," Daral explains. "What guests are learning, feeling, and experiencing as they move through the program."
Psychoeducational groups or workshops: "These are topical, zeroing in on body awareness, breath work, journaling and narrative work, the physiology of emotional dysregulation, healthy compassion, and more."
Moreover, there is the constant feeling of community whenever at a New Life therapy retreat here in Portugal. In fact, we consider 'community' our 'secret sauce'. "Our community is the container and the catalyst for change. Every minute of every day you will have the chance to practice what you learn at New Life in a safe and healing environment," Daral reveals.
In the mornings, you can choose to join in on group yoga or meditation practice, while in the evenings, we host everything from improv to story groups. We place particular focus on mindful-living here at New Life, and many of our mindfulness sessions are held in groups.
"Whatever your comfort level, whether you jump in or observe from the sidelines, connection to others is powerful and healing."