A sustainable wellness retreat and mindfulness centre
At New Life Portugal our dedicated team of international experts offers personalized research-driven mental care programs with exceptional facilities in a stunning natural park.
You can enjoy the rare combination of meditation, yoga, counselling, coaching, fitness, nature, and mindful community life.
Reset your life at New Life
We are a wellness retreat and mindfulness centre offering a unique combination of meditation, yoga, counselling, coaching, fitness, nature, and mindful community life in the Serra Da Estrela, Portugal.
Our programs offer a wide range of therapeutic elements rarely found all in one place with the benefit of being in nature, and a supportive community.
It's all about your inner needs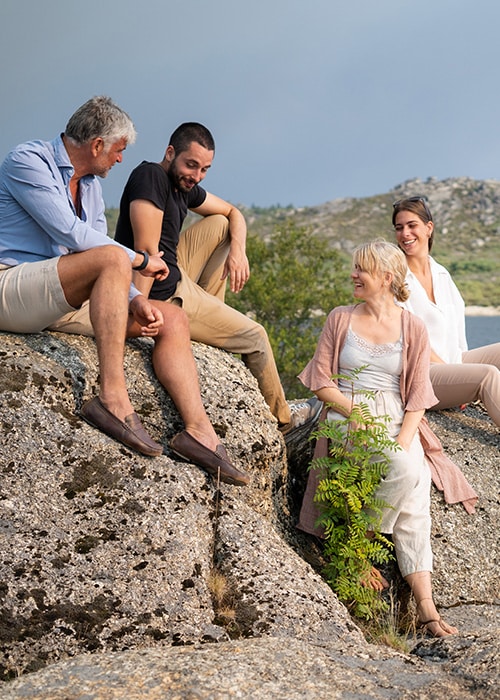 Extend your rehabilitation to reintegrate into society
New Life's mission is to provide support for anyone who wishes to cultivate their sustainable wellbeing.
Are you interested in a relaxing break that offers a total reset of the nervous system?
Are you feeling stuck or hopeless because of anxiety or depression?
Do you need help making sense of a difficult event, such as the loss of a loved one or an important relationship?
Have you reached breaking point after a long struggle with stress or burnout?
Would you like to gain the tools to work on your wellbeing in a supportive environment?
Are you concerned about your approach to substances, devices, or relationships? Need help maintaining your sobriety?
You are at the right place.
Come and visit us for just a weekend.  Enjoy exploration, practice, and growth.

Enhance your journey with some special workshops, speakers, … or activities that serve your intention.
People from all the world visited New Life Portugal.
Some of them we're willing to share their story.
We provide support if you're looking to reduce stress, heal from burnout, or find help for anxiety, depression, grief, loneliness, or compulsive behaviours.
People also come to us to learn about meditation and mindfulness, or to work on personal growth and self-development.
Bringing community life forward, but you choose how you fill it in!